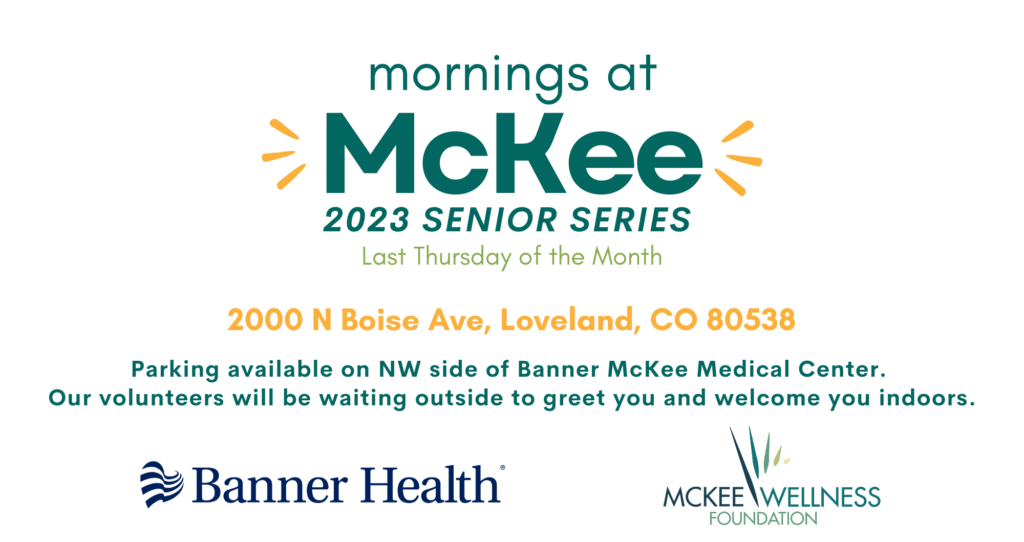 Registration is not required to attend McKee Mornings.
Thur, March 30 | 9 – 10:30 AM
Putting your best foot forward!
Dr. Travis Wilson, Foot and Ankle Specialist with Orthopedic Surgery, provides insight on all things foot health.
Additionally, join our Wellness team to learn important fall prevention exercises.
Thur, April 27| 9 – 10:30 AM
CarFit Checks
All of Us Research Program
Thur, May 25 | 9 – 10:30 AM
Stroke awareness
Thur, June 29 | 9 – 10:30 AM
Bill Wallace on leveraging goals to accomplish things bigger than ourselves.
Bill rode his bicycle across the United States less than a year ago to raise funds for local veterans through McKee Wellness Foundation and has now been recognized as a Guinness World Record holder!
Thur, July 27 | 9 – 10:30 AM
Jessi Like, Registered Dietitian
Registered Dietitian, Jessi Like, RD will discuss diet, weight control, aging, and healthy food options for aging adults.

Thur, August 31  | 9 – 10:30 AM
Details to come


Thur, September 28 | 9 – 10:30 AM
Dr. McKimpson, Primary Care Sports Medicine Physician
Dr. McKimpson is a primary care sports physician specializing in non-operative treatment of orthopedic issues. 
Learn about ways to help your knee arthritis and keep active.  
Thur, October 26 | 9 – 10:30 AM
Cyndy Luzinski from Dementia Together

Turning crisis and tragedy to contentment and hope–
Experiencing a recent dementia diagnosis can often leave us struggling over where to find help. If you are caring for a family member living with dementia, or want to better support a friend or co-worker, join us for tips, insights, and inspiration to learn how to care well and provide hope.

Thur, November 30  | 9 – 10:30 AM
Details to come
Thur, December 28  | 9 – 10:30 AM

No program – See you in January 2024